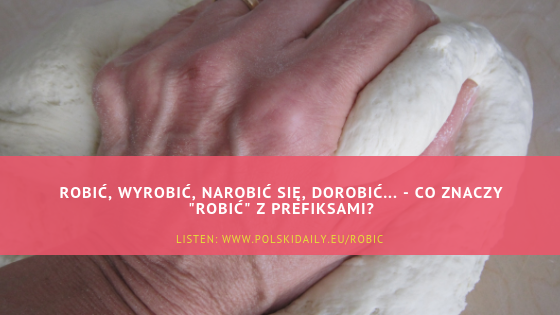 Listen to my friend Kuba explaining meanings of some verbs based on the root "robić"
(ćwiczenia na dole)
wrabiać /wrobić kogoś – oszukać
wrabiać się / wrobić się – pozwolić innym się oszukać
urabiać się /urobić – nadawać formę np. urabiać ciasto (PL: I would say more common word for kneading is "wyrabiać, wyrobić")
urabiać /urobić się po łokcie – bardzo ciężko pracować
urabiać / urobić kogoś na swoją modłę – zmienić czyjś sposób postępowania
podrabiać / podrobić – sfałszować
dorabiać / dorobić – dodać coś brakującego
dorabiać się/ dorobić się majątku – stać się bogatym
Inne czasowniki na bazie "robić":
zarabiać / zarobić – dostawać pieniądze z pracy, to earn
Ile zarabiasz? Zawsze za mało!
wyrabiać / wyrobić – produkować , to manufacture
W tej fabryce wyrabiamy najpiękniejszą porcelanę na świecie!
wyrabiać / wyrobić się – zmienić się na lepsze
Kiedy był nastolatkiem nie wyglądał atrakcyjnie, ale wyrobił się i teraz jest dość przystojny!
porobiło się! – rzeczy się skomplikowały
Zdradziłam twój sekret kilku koleżankom i teraz nie chcą z tobą rozmawiać. Ale się porobiło!
narobić się – pracować zbyt wiele w porównianiu do efektów
Cholera! Grabiłem dzisiaj liście w ogrodzie, narobiłem się, a wieczorem wiał silny wiatr i cała moja praca na nic.
rozrabiać – być niegrzecznym, to be mischievous
Maćku proszę cię, bądź grzecznym chłopcem i przestań rozrabiać!
rozrabiać / rozrobić – rozpuścić proszek albo gęsty płyn w innym płynie , to dissolve
Musisz najpierw rozrobić drożdże w mleku, a potem odstawić je na 15 minut.
odrabiać / odrobić lekcje / pracę domową – to do homework
Znowu nie odrobiłeś pracy domowej?
przerabiać / przerobić – zmienić coś na coś innego
Mama zaplamiła sukienkę na górze, ale ponieważ jest dobrą krawcową, przerobiła ją na spódnicę.
Czas na ćwiczenia! Połącz czasowniki z definicjami: Wpisz odpowiednie czasowniki w luki: