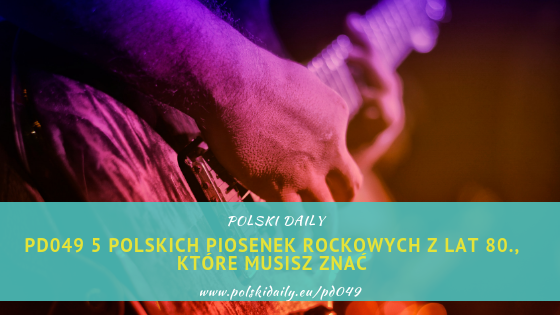 Chcesz poczuć się na chwilę jak Polak? Musisz posłuchać tego odcinka, bo każdy Polak umie zaśpiewać refreny tych 5 piosenek, o których w nim mówię!
Do you want to feel like a Pole? You have to listen to this episode, because every Polish person can sign refrains of these 5 Polish rock songs I talk about in it!
W tym odcinku:
prezentuję 5 polskich rockowych piosenek z lat 80.
opowiadam kiedy i dlaczego powstały
wyjaśniam, dlaczego są ważne dla Polaków
pomagam zrozumieć ich teksty
Zarejestruj sie tu, żeby otrzymać dostęp do wszystkich materiałów do nauki polskiego, które dla Ciebie piszę 🙂
Piosenki, o których mówię w tym odcinku to:
Budka Suflera, "Jolka Jolka", 1982
Perfect, "Autobiografia", 1982
Lombard, " Przeżyj to sam", 1983 
Lady Punk, "Mniej niż zero", 1982
Obywatel G.C. "Nie pytaj o", 1988
Pobierz teksty piosenek z wyjaśnieniami
Fragmenty utworów zostały użyte w podkaście w celu edukacyjnym i promocji polskiej kultury za granicą.
Pobierz transkrypcję odcinka 49.