Jestem Paulina and chcę Cię nauczyć polskiego.  My name is Paulina and I want to be your Polish Teacher.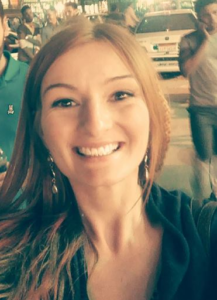 As a child I never wanted to be a Polish Teacher. I wanted to be a president because I love people. I thought teachers struggle all their lives with students who lack motivation and burn from inside. They lose their hope and finally give up. Those times I had no idea it's possible to teach Polish to foreigners who are passionate about our language and culture. To those who have all the motivation and persistance.
Studies
After jumping between Polish studies, Czech studies, Middle Eastern studies, for my Masters I chose teaching Polish as a Foreign and Second language at Jagiellonian University because I heard Polish was becoming more and more popular abroad. In the beginning I couldn't believe it. I know how hard is its grammar and how useless it seems. I was so wrong! During my studies not only I learned how to create materials, lesson plans and how to teach practically from the best professors in the country. I met the most wonderful students from all over the world and each of them had different reasons to study Polish. I fell in love with these people and found my mission – to be their Polish Teacher. 
I got engaged in Glottodidactics Science Circle at Jagiellonian University and started tutor private students. After my first year I got hired by the University during their Summer School. It boosted my passion and I was 100 % sure teaching Polish is the dream job.
Scholarship
After the second semester of my second year I got scholarship to Spain. I started working at a Weekend Polish School in Barcelona. I worked with children of Polish heritage and I learned a lot about multilingualism and polyglotism and it became my other hobby.  I kept teaching one-to-one, also giving classes in one (and I think the only) school of Polish in Barcelona.
I came back to Poland in 2015 working on my thesis and teaching in free time. It took me only a couple of months to decide – Poland is wonderful to talk about but I have to experience the world so I moved to Egypt where I got married. After two years in Egypt my husband got accepted to do his studies in Barcelona so I was more than happy to move again and teach with better Internet connection 😉 
What am I doing now?
Here I am. After spending a wonderful year in Barcelona, Spain and teaching Polish in World Class Barcelona Language School, I moved to Chicago,USA where my husband, Mahmous is doing his internship and I teach Polish online full-time on Italki, Verbling and working with my private students. I also record regular podcasts for different levels and create tons of exercises for my students and you all! I have a lot of ideas for new materials, podcasts and videos and hopefully you will enjoy the effects of my work. Maybe you will choose me  to be your Polish Teacher too 🙂